By Amy Choate-Nielsen
Deseret News
Published: Sunday, Jan. 15, 2012 7:00 p.m. MST
David Letterman knows how to get a laugh.Like most comics, he riffs on the day's news, deadpans the camera and revels in audacity."Oh, did you hear about this?" the host of CBS' Late Show with David Letterman asked his audience recently. "A campaign staffer on the Newt Gingrich campaign was fired because he was making negative comments about Mormons. I thought, now, wait a minute — isn't Newt in favor of multiple wives?"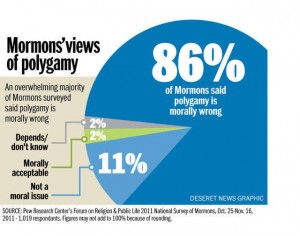 Laughter rumbled from the audience followed by applause. The polygamy punch line is a familiar one when it comes to poking fun at Mormons — as though Mormons and polygamy are synonymous in mainstream media. Ironically, the practice that's most linked to Mormons is a practice most Mormons oppose, according to a groundbreaking new study of Mormons in America released Thursday by the Pew Research Center's Forum on Religion and Public Life.
According to the study, members of The Church of Jesus Christ of Latter-day Saints unequivocally reject polygamy — only 2 percent said the practice is morally acceptable — evidence of a yawning gap in what Mormons believe and how they are perceived. Mormons' opinions are overwhelmingly conservative, the study shows, but in many ways, their views are also surprising — especially when it comes to opinions on moral issues, divorce, homosexuality and polygamy. Read more
A recent The Pew Research Center's Forum on Religion and Public Life conducted an in-depth survey of Mormons in the United States. Mormon is a nickname sometimes used to describe members of The Church of Jesus Christ of Latter-day Saints. The fourth article in a series that appears in Deseret News is evaluating the results of this survey and providing context for the results.
Immigration is a controversial topic in the United States. The survey asked one question on this topic. They were asked which of two statements most closely matched their view, even if they didn't completely agree. They were asked whether immigrants strengthen or burden the nation. No distinction was made between legal and illegal immigration, leaving those polled to decide for themselves what the question meant.
In the general U.S. population, 45 percent of Americans feel that immigrants strengthen the country, while 44 percent burden it. 12 percent feel that neither or both are true or they have no opinion on the subject. Mormon views closely mirror these statistics. 45 percent of Mormons also believe immigrants strengthen the nation, although a smaller number, 41 percent, consider them a burden on society. The number of Mormons who accept both or neither or who have no opinion is higher, at 14 percent.
These numbers put them at odds with evangelical Christians, one of the few political areas in which they disagree. Within the white evangelical population, 59 percent believe immigrants are a burden, and 27 percent believe they strengthen the country. Like Mormons, 14 percent answered both, neither, or no opinion.
The statistics for Mormons shows a strong divide based on age, income, and education, as well as on religious commitment. Only 36 percent of highly committed Mormons see immigrants as a burden, while 50 percent of those who are less committed see them as a burden. This largely correlates with economic status. 84 percent of Mormons who are highly committed to their religion are college graduates. (The church strongly encourages Read more
Of all the numbers in the Pew Research Center's recently released survey of "Mormons in America," the highest, most overwhelming numbers are these: 98 percent of respondents said they believe in the Resurrection of Jesus Christ, and 97 percent say their church is a Christian religion.
This comes on the heels of earlier surveys indicating that 32 percent of non-LDS U.S. adults say the LDS Church is not a Christian religion, and an additional 17 percent are unsure of LDS Christianity. The theological and semantic reasons for this can be complex, but for the 1,019 self-identified Mormons who participated in the Pew survey, their theological position is clear: Mormons believe in Jesus Christ, and they consider themselves to be Christian.
"Certainly in Latter-day Saint theology is this idea that if you understand who you are, you understand that there's a purpose in life, you understand your connection to God, that certainly has an impact on how you live your life and what you do, but also how you feel about your life and what you are doing," said Michael Purdy of the LDS Church Public Affairs office. Read more
SMITHFIELD — After dinner, three baths, four bedtime stories and a half-a-dozen goodnight kisses for 2-year-old twins Brock and Isaac and 6-year-old Ellie, Erin and Brian Thompson finally sink into the couch with weary smiles.
Being parents is just what they always wanted. And they love it.
"Of course we have our crazy moments," Thompson says, "but for the most part we just try to find the good things in the day and remember that they're only going to be little for so long."
As members of The Church of Jesus Christ of Latter-day Saints, the Thompsons believe that maintaining a strong marriage and raising and teaching children are essential keys to happiness and their most important responsibilities on earth.
In fact, 81 percent of Mormons say being a good parent is "one of the most important things in life," according to a new survey by the Pew Research Center's Forum on Religion & Public Life — the first survey of Mormons about Mormons, by a non-LDS research organization.
The survey of more than 1,000 self-identified Latter-day Saints from across the country asked how accepted Mormons feel in American culture, as well as their thoughts on religious practices, political issues and family roles.
The survey showed that Mormons are more likely to be married than the general population, 67 percent of the sample size compared to 52 percent of the general public.
And 85 percent of married Mormons married other Mormons. Protestants marry other Protestants 81 percent of the time and Catholics marry each other 78 percent of the time. Read more
As the "Mormon moment" extends into 2012, the Pew Research Center's Forum on Religion & Public Life today released a groundbreaking new survey, the first ever published by a non-LDS research organization to focus exclusively on members of The Church of Jesus Christ of Latter-day Saints and their beliefs, values, perceptions and political preferences.
Entitled "Mormons in America: Certain in Their Beliefs, Uncertain of Their Place in Society," the survey was conducted between Oct. 25 and Nov. 16, 2011 among a national sample of 1,019 respondents who identified themselves as Mormons. The results validate a number of long-held stereotypes (most American Mormons are white, well-educated, politically conservative and religiously observant) while providing a few interesting surprises (care for the poor and needy is high on the list of LDS priorities, while drinking coffee and watching R-rated movies aren't as taboo among the rank and file as you might think).
"While this survey comes amid a contentious election campaign, it is not solely or even chiefly about politics," said Luis Lugo, Pew Research Center director, in the published survey's preface. "Rather, we hope that it will contribute to a broader public understanding of Mormons and Mormonism at a time of great interest in both."
For example, in one very interesting section of the new survey, respondents were asked several questions about what is essential to being a good Mormon. According to the survey, 80 percent said "believing Joseph Smith saw God the Father and Jesus Christ" is essential to being a good Mormon, 73 percent said "working to help the poor," 51 percent said "regular Family Home Evenings," 49 percent said "not drinking coffee and tea" and 32 percent said "not watching R-rated movies. Read more
When Mormon missionaries begin to teach a person interested in hearing their message, the missionaries will encourage the person to pray.  For many "investigators" of the LDS Church, prayer is a brand new venture, and at first, they may be very uncomfortable about making the attempt.
That was the case for me.  I had never prayed.  My father was a rocket scientist and did not believe in God.  My mother claimed to be Christian, but I never saw her pray, never saw her pick up a Bible, never saw her go to any church.  My first prayer was simply to find out if anyone was "up there."  Was there a God, as the missionaries claimed?  And if He did, indeed, exist, was He personally interested enough in me to answer my awkward prayer?  I knelt, and didn't quite know how to begin.  The missionaries had given me some coaching – begin by addressing deity in a respectful way, and use respectful language throughout.  Give thanks.  Then ask for answers to questions and help with challenges.  Then close in the name of Christ.
I didn't quite remember this counsel.  I just knelt there wondering what to say.  I was only fifteen years old at the time, and was seeking to fill a void in my very center, a painful yearning in my heart.  At that age I had already reached the stage of asking, "Is this all there is?"
I don't remember beginning correctly.  I just knelt silently and let that void manifest itself, hoping this was the gateway that could open and allow it to be filled.  Finally, I just ventured…"Is there anybody up there?"
I received an answer!  I felt a spiritual conduit open above me, and love gushed through it.  "Yes, I'm up here."  It wasn't a voice, but an outpouring of love and spirit that I would never be able to question or deny.  I learned a great deal from that brief experience.  Not only was there a God, a truly personal God, but He stood ready to reach out to me at the very second I called on Him.  He knew I was there on my knees, trying to get some words out that would change my life.
After a couple more missionary lessons, I did not ask the Lord in prayer whether the Book of Mormon was true, because I received that witness as I began to read it.  If the Book of Mormon was true, then Joseph Smith was actually a prophet, an idea I found wholly consistent with the way the Lord worked in days of old, as recorded in the Bible.  Even at that young age, I thought it was nonsense to think that if angels visited the earth anciently, they could not do it in modern times.
I was baptized soon after, and never lost my faith.  Not that my life has been a straight path, but my faith has only grown.  In the ensuing years, I have met people who have prayed like I did in my youth, but who claim not to have received an answer.  I have puzzled over this, and I think I have found the key.
When Joseph Smith was fourteen, he attended revival tent meetings with members of his family whenever his farm duties left him time for such a thing.  His family were devout Christians, but unaffiliated, and in the northeastern United States at the time, there was a "Second Great Awakening" of religious fervor taking place.  Part of Joseph's family was attracted to Presbyterianism, and others to Methodism, including Joseph.  But his confusion grew.  He could not make his choice by resorting to the Bible, because all the Protestant faiths relied on the Bible, but disagreed on doctrine.  Joseph retired to a cluster of trees to ask God which church he should join.  The Lord told him to join none of them, that He was about to restore Christ's church upon the earth in its fulness.
The event that sent Joseph into that grove of trees to pray was reading the Book of James,  Chapter 1, verse 5:  If any of you lack wisdom, let him ask of God, that giveth to all men liberally, and upbraideth not; and it shall be given him.  The ensuing verses, however, talk about approaching God, doubting nothing.
I believe this is the key to receiving an answer, but I can tell you that at the time I prayed and received my own answer, I was skeptical.  We can doubt God, and we can doubt ourselves, we can doubt the missionaries, and we can doubt their message.  We can doubt the Book of Mormon could possibly be what Mormons claim it to be, but it's still possible to receive an answer that can be life-changing.
I read about a person who received this sort of witness, the life-changing kind.  He is my example of going to the Lord "doubting nothing."  He went to his knees at a private time and place.  I don't know if he addressed the Lord properly and gave thanks, but I know he was already a Christian and accustomed to prayer.  In fact, his prior Christian affiliation was a stumbling block for him, because of his family traditions and conflicting doctrine.  But he went to his knees and humbled himself, acknowledging his inability to know, his inability to rely on prior teachings or family pressure to determine the truth.  Then he said, "God, I know you are there.  Is what the missionaries are teaching me true?  If you tell me it is true, I will give up everything to follow thee."
And that's the key.  The willingness to follow that answer received.
Another story is of African students who were in Europe studying, sponsored by a religious organization in Africa.  When they received through prayer their confirmation of the truthfulness of the restored gospel, they had to make a difficult choice.  If they chose to follow the promptings of the spirit, they would have to sever ties with the sponsoring church and lose their education stipend and their European residency.  Knowing the restored gospel was true, they took the leap.   They lost this sponsorship, the free education, and had to return to Africa, but they made the sacrifice, because they knew.  And they received their answer, because the Lord knew they would act.  That's how we show that we "doubt nothing."
I have met people who have received the witness, started down the road, and then abandoned it.  These are those called the "thorny ground" in the parable of the sower.  In these, the Lord would have worked His miracles, but they are distracted by things of no worth.
Joseph Smith doubted himself, but that made him humble.  He knew he had not the wisdom to discern which church was true.  He had faith, but had no idea God would actually show Himself in response to his feeble attempt to pray.  But he got up, and headed down a road of bitter persecution and even martyrdom, and a road to great joy.
Additional Resources
Basic Mormon Beliefs — Official LDS Church Website